We are delighted to share the winning entries for this year's White Rose Project Prizes as part of the Oxford German Olympiad. The Olympiad is an annual nationwide competition run by the Oxford German Network, an initiative by the German department of the Faculty of Medieval and Modern Languages, University of Oxford, dedicated to productive cross-cultural cooperation involving schools, cultural organisations, businesses, and policy-makers.
We had a large number of entries again this year and the judges were extremely impressed by the skill, enthusiasm, and research that had gone into them. We are grateful to Dr Hildegard Kronawitter, Director of the White Rose Foundation in Munich, for acting as Head Judge for the Writing Competition. We look forward very much to the 2022 Olympiad!
White Rose Writing Competition (for Years 12 and 13 or equivalent)
The task was to write a letter in German telling the story of Sophie Scholl's life and/or legacy. The letter could be addressed to anyone entrants chose. The winning entry was by Rosie Evans.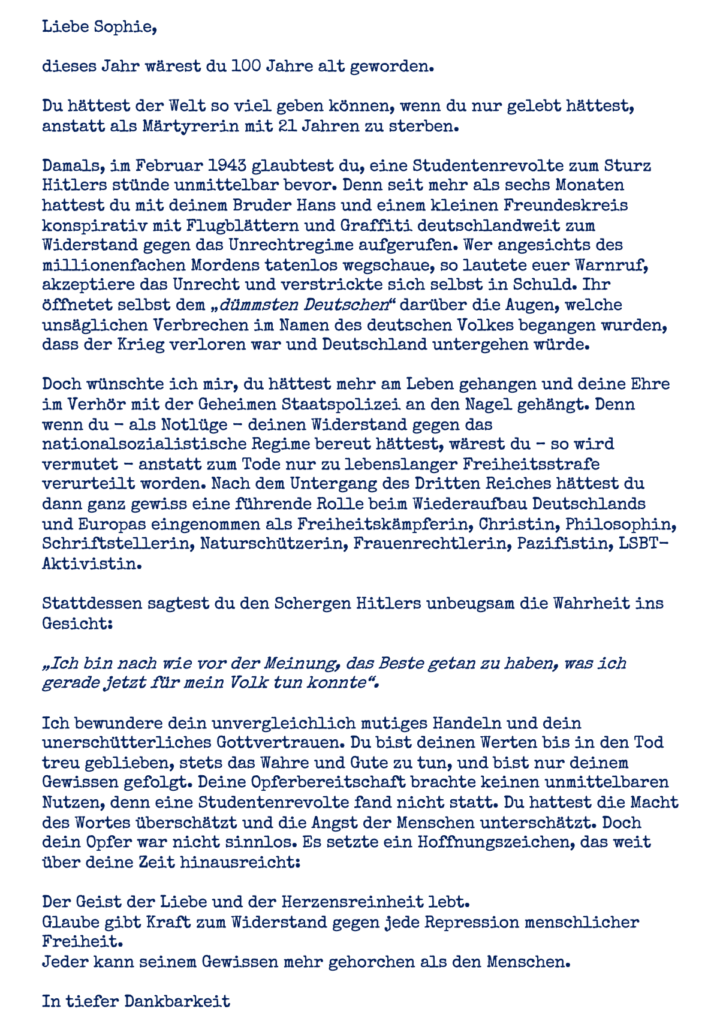 White Rose Creative Competition (for Years 10 and 11 or equivalent)
The task was to create a comic or short graphic novel in German telling the story of Sophie Scholl. The winners were Mariella Jasper and Emily Dicker. Click on the images to read the full comics!